Introduction - What is Golang?
New programming languages emerge regularly in the world of software and technology.  Having said that, one such language that has gained considerable attention is Go. Go is often referred to as Golang. 
Golang was developed by Google engineers Robert Griesemer, Rob Pike, and Ken Thompson. Golang or Go was designed to address the limitations of existing languages. Also, to offer a streamlined approach to building robust and efficient software.
| Aspect | Description |
| --- | --- |
| Purpose | Build simple, secure, scalable systems with Go |
| Supported by | Google (an open-source programming language) |
| Learning Curve | Easy to learn and great for teams |
| Key Features | Built-in concurrency and a robust standard library |
| Ecosystem | Large ecosystem of partners, communities, and tools |

The Story Behind Go: A Language Built to Solve Problems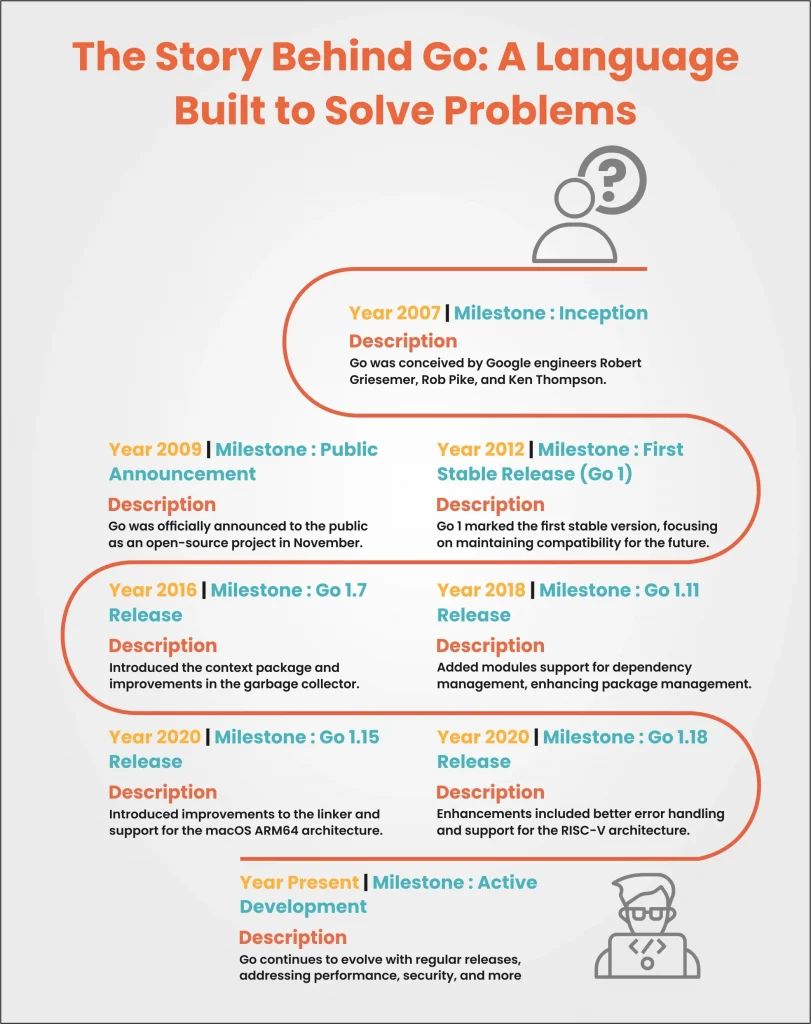 How did Golang or Go come into existence?
Go came to life to tackle Google's own software challenges. It all started when Google faced difficulties with their existing tools, like C++. Moreover, they saw a growing demand for a language that could handle the power of modern processors with multiple cores.
Around 2007, Google's smart minds set out to create Go. Their goal? To make a language that was simpler than what was already out there. Also, without taking away the good parts from languages like C++, Python, and JavaScript. They wanted a language that was user-friendly and efficient.
Subsequently, in 2009, they shared Go with the world as an open-source project. This meant that anyone interested could join in, share ideas, and write code.
Again, in 2012, Go version 1.0 made its official debut.
As time rolled on, Go didn't stand still. It kept improving and gaining new features. Finally, Go was introduced with a new feature called generics in 2022. This feature added enhanced Go's versatility and capability. With every enhancement, the popularity of Go soared.  
Tech giants such as Cloudflare, Google, MongoDB, Dropbox, Twitch,
Netflix, SoundCloud, Uber adopted Go for their development projects. .
So, Go  was born out as a solution to some real problems. Google's smart minds developed Go with an intent to offer a simple and  efficient programming language to the developer community. Thus, Go is a language embraced by a community of developers and companies looking to build amazing things.
| Use Case | Key Attributes |
| --- | --- |
| Web Application Development | Scalability, Efficiency |
| System-level Programming | High Performance, Low-Level |
| Networking Applications | Concurrency, Network Services |
| Distributed Systems | Microservices, Concurrency |
| Container Ecosystem | Docker, Kubernetes Integration |
| Cloud Services | Efficiency, Serverless Support |
| Command-Line Tools | Simplicity, Performance |
| DevOps & Infrastructure | Automation, Management Tools |
Go is a programming language that software developers use to build different types of software:
To Develop Network Services: Go is particularly suitable for building network services including web servers, APIs, and mini frameworks for web applications.
Cloud-Native Development: Many cloud platforms such as Kubernetes and Google Cloud were developed on Go.

 

Go's concurrency and networking features makes it highly portable across various platforms.

 
Replacing Old Infrastructure:  Go was used to rewrite many old infrastructure. This was an attempt to modernize the obsolete infrastructure obsolete over time. For instance, a new version of the Network Time Protocol (NTP) – an internet protocol for clock synchronization among networks – depends heavily on Go.
Building Small Tooling Items : Go can function on its own without any dependency on other languages or tool. So, it is well-suited for building small tooling items. These can launch quickly and be packaged for redistribution at a moment's notice.
News Portals:   Media giant BBC uses Go for its backend development. It's probably safe to assume Go's capacity for multithreading to maximize CPU usage helps more often than not when it comes to managing a massive multimedia website.
➜ American Express:  They were able to accelerate and scale their payments and rewards network. 
➜ Allegro: Allegro has developed a quick cache service with tons of entries, which, reduced their request times.
➜ Bitly: Bitly made use of Go for its simplicity and performance, It ported legacy services and new projects using Go.
➜ Dropbox: Dropbox moved its backends from Python to Go, which helped them in enhancing concurrency.
➜ Facebook: Facebook built an entity framework in Go. 
➜ Cloudflare: Empowers core services, including DNS, SSL, and load testing, due to Go's capabilities.
➜ Google: Google used it for various products and services due to its scalability.
Take control of your career and land your dream job
sign up with us now and start applying for the best opportunities!

Go is a powerful language that offers a pragmatic approach to programming. Its simplicity, concurrency model, performance, and strong community support make it a solid choice for various applications. However, like any programming language, its suitability depends on the specific requirements of the project and the preferences of the development team.

Frequently Asked Questions
Barcharts. Source: www.barchart.com. …
InvoiceNinja. Source: www.invoiceninja.com. …
MyRank. Source: www.myrank.com. …
Contentoo. Source: www.contentoo.com. …
Usetably. Source: www.usetably.com. …
Flarum. Source: www.flarum.com. …
Bagisto. Source: www.bagisto.com.