As per a 2022 developer report by Statista, Flutter is the most popular cross-platform mobile framework worldwide. Around 46 percent of software developers use Flutter. Also, as of January 2023, there are more than 700,000 apps in the Play Store made with Flutter. Out of every five new apps on the Play Store, one is built using Flutter. It's more popular than all other cross-platform frameworks combined.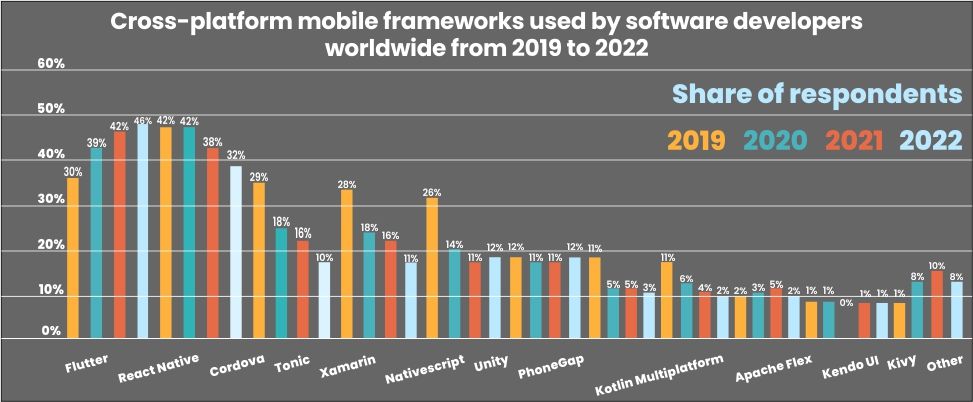 Created by Google, Flutter is a free, open-source user interface software development kit. Flutter is used to build beautiful, natively compiled, cross-platform applications from a single codebase. It is compatible with all browsers including any web browser, Fuchsia, Android, iOS, Linux, macOS, and Windows. First described in 2015, Flutter was released in May 2017.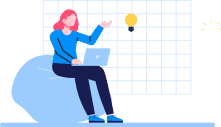 Don't miss out on your chance to work with the best!
Apply for top job opportunities today!

What is Flutter used for?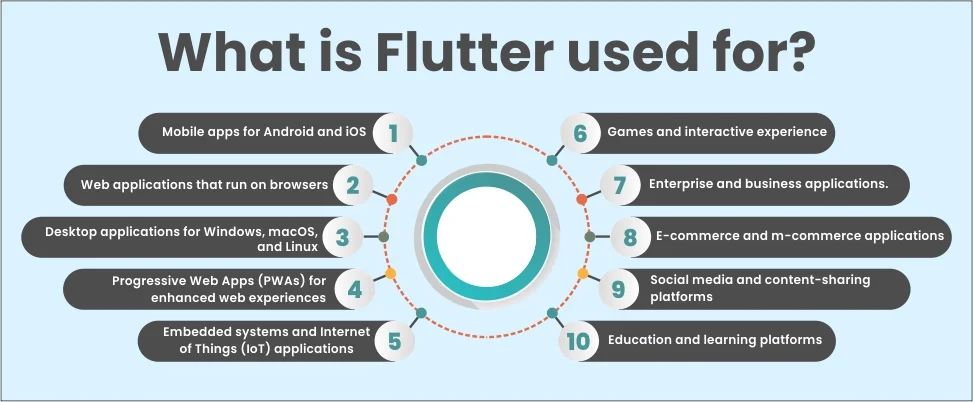 Flutter is used to develop web, mobile, and desktop applications. It is a flexible framework that enables you to create high-performance apps for different platforms from a single codebase. Moreover, with Flutter, you can create native-looking user interfaces, handle networking, and include various appealing features such as camera, location, and sensors. Its efficiency to provide same experiences across platforms makes it in demand  for cross-platform app development. Additionally, Flutter has a faster development cycle and have features like hot reloading which makes it effective for prototyping and iterating on app designs. Flutter is used for various applications, such as: 
Developing mobile apps for iOS .and 

Android 

Web apps that is used on different browsers.

 

Desktop apps for Windows, macOS, and Linux.

Progressive Web Apps (PWAs) for improved web experiences.
Embedded systems and Internet of Things (IoT) applications.
Interactive gaming experiences.
Large-scale business and enterprise applications.
E-commerce sites.

 

Use cases for entrepreneurs to take advantage of Flutter's capabilities
| App | Industry |
| --- | --- |
| Google Stadia | Gaming |
| Google Ads | Campaign Management |
| Google Assistant | Voice Assistant |
| Reflectly | Meditation |
| Alibaba's Xianyu | E-commerce |
| Groupon | Deals |
| eBay Motors | Vehicle Marketplace |
| Tencent apps | Various Apps |
| Hamilton Musical | Entertainment |
| Philips Hue apps | Smart Home Lighting |
| inKino app | Movie Showtimes |
| Cryptomaniac Pro | Cryptocurrency |
| Flydirekt app | Flight Search |
| Birch Finance | Financial Management |
| NuBank | Digital Banking |
| Coach Yourself | Meditation |
| Insight Timer | Meditation |
| Hookle | Social Media Management |
Fast and Real-time Decentralized Exchanges

:

Flutter's speed and real-time capabilities make it ideal for building decentralized exchanges like Cryptograph. These exchanges require quick transactions and instant sharing of data across the blockchain, and Flutter excels in delivering such features.

 
Simplified Payment Methods

:

Google's own Google Pay uses Flutter to create affordable payment apps. It can drastically lessen development time and maintenance efforts.
In-built Widgets for Journaling Applications

:

Flutter has widgets make it easy to create user-friendly journaling apps like

Reflectly

and PUSH Pro, allowing developers to quickly deploy and customize interfaces.
Smart Home Interconnectivity

:

With Flutter, developers can build apps that offer seamless customization and control of internet-connected devices in a user's home, similar to the Philips Hue app.
Music Platforms

:

Flutter provides packages like

flutter_audio_query

and

audio_manager

for building music platforms with functionalities like music playback and volume control.

 
Captivating Booking Apps

:

Flutter's flexibility allows developers to create adaptive designs that look great on any screen size, making it perfect for booking and travel applications.

 
Reliable Games Development

:

Flutter's cross-platform capabilities make it a reliable choice for game development, helping developers save time and effort while delivering continuous updates.

 
Efficient Banking and Mobile Wallet Apps

:

Flutter enables feature parity, streamlined UI, and rapid development, making it suitable for creating secure and user-friendly banking and mobile wallet apps.
Innovative Social Networking Applications

:

Flutter can be used to build social networking platforms with shared Dart codebases, cutting down on development time and costs.

 
Take control of your career and land your dream job!
Sign up and start applying to the best opportunities!

Despite being a relatively new framework, the demand for Flutter has surged due to its cross-platform development capabilities. As businesses increasingly focus on mobile app development, the demand for skilled and proficient Flutter developers has risen substantially, pointing to a promising future for Flutter's growth in the industry.