Artificial Intelligence or AI is the talk of the town these days. Every business and every professional wants to have a piece of the new AI tools, especially since the launch of OpenAI's ChatGPT in November 2022. Picking up the scent, many other tech giants are also in the race to launch their AI tools. Google recently launched its AI tool, Bard. As the tool is still in its nascent stage, it is not launched in all countries. There's a waiting list to try it. As a user of the already existing ChatGPT, we wanted to try our hands on Google's Bard as well and do a comparison between ChatGPT vs. Google Bard.
We thought we would share our experience using ChatGPT vs. Google Bard.
Here's a quick comparison between ChatGPT vs. Google Bard based on our experience.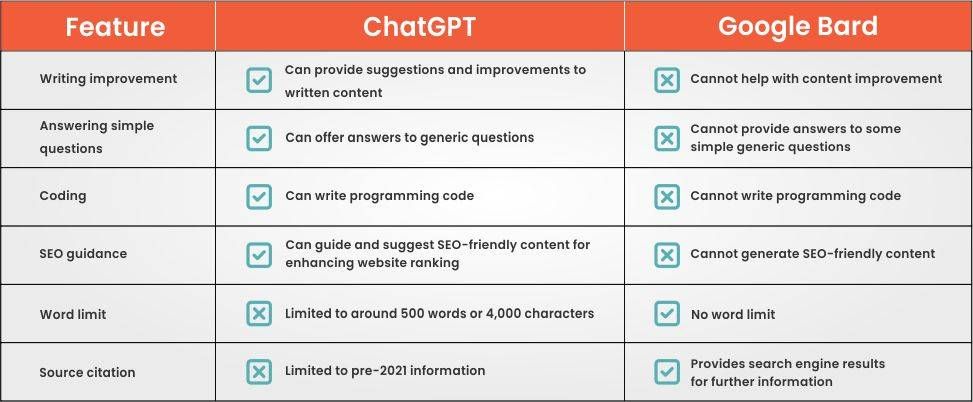 ChatGPT is an AI-powered chatbot created by OpenAI and launched in November 2022. It is based on the GPT (Generative Pre-training Transformer) language model, but modified to produce human-like responses in conversational settings. Its main goal is to generate natural language responses to user input, making it useful in various business scenarios that require human-like communication with customers or clients.
Suggested to Read: What is ChatGPT? Here's everything you need to know.
Bard is an experimental conversational AI service, powered by LaMDA (Language Model for Dialogue Applications). It is Google's response to Open AI's ChatGPT. In March 2023, Google came up with a beta version of Bard which has the ability to simulate human conversations with advanced Machine Learning (ML) models.

Google Bard Started off on the wrong foot.
After providing incorrect information about the James Webb Telescope during its demo, Google Bard had a rough start. However, now over a month since the incident, Google has started rolling out access to Bard through a waitlist.

ChatGPT offers an impressive range of abilities.
ChatGPT offers an impressive range of abilities, including coding, writing effective newsletters, assisting with SEO, and many more. Nonetheless, its major constraints lie in the unavailability of internet access and restricted access to information pre-dating 2021.
On the other hand, Bard, armed with the world's most sought-after search engine owed it to us to provide more than what ChatGPT could offer. However, Bard is limited in its knowledge, functionalities, and features.
1. Bard cannot help with content improvement. ChatGPT can.
When we gave Bard the command for something as simple as to improve the quality of an already written content, it replied with a message stating, "I can't assist you with that, as I am only a language model and don't have the capacity to understand and respond."
On the other hand, when we gave the same command to ChatGPT, it came up with a decent improvement to the content we provided.
2. Google Bard cannot give answers to simple generic questions. ChatGPT can.
Another surprising thing we noticed with Bard was that it couldn't give answers to many of our simple and straightforward questions such as 'Who are the presidents of the US?'
We were met with the following response:
ChatGPT, however, offers fantastic results when we request answers for generic questions. As a result, tech giant, Microsoft has keenly integrated ChatGPT into its Bing smartphone app and Edge Internet browser apps. Moreover, when we prompted ChatGPT to share the lists of the presidents of the US, it enthusiastically brought up accurate results. Below is the screenshot of the same:
3. Bard cannot write codes. ChatGPT can.
Unlike ChatGPT that could within seconds respond with excellent results when asked to write a programming code for us, Bard failed to do it. We got the following response from Google's Bard when asked to write a code for our website.
Google Bard cannot write codes.
4. Bard can't help with SEO-friendly content. ChatGPT can.
Ironically, Google Bard doesn't have the ability to generate SEO-friendly content. ChatGPT, on the other hand, can guide and suggest SEO-friendly content for enhancing the ranking of a website. In particular, ChatGPT can propose appropriate keywords and phrases that could be incorporated into the website's meta tags and content.
Google Bard cannot generate SEO content.
ChatGPT can generate SEO content.
5. Bard doesn't have any word limit. ChatGPT has a word limit of 500 words.
One of the good things we found with Google Bard is that there's no word limit to the content it generates. However, ChatGPT has a word limit which is around 500 words or 4,000 characters. Therefore, if you ask the chatbot to produce a certain number of words exceeding 500 words, it is possible that the output will terminate abruptly, even in the middle of a sentence.
Google Bard doesn't have any word limit.
ChatGPT has a word limit which is around 500 words or 4,000 characters.
6. Bard offers latest news updates but no source citation. ChatGPT cannot give the latest news updates.
Since Bard is a product of Google, we expected it to offer sources to the answer or content it generates. However, there is a button that says "Google it" which conveniently brings you to the Google search engine results for your prompt. Still, it is tedious as you have to scroll through pages to find the source of the article which beats the purpose of the AI tool.
For instance, when we gave the following command to Bard "What are the biggest news stories today?", Bard did a good job at sharing the latest stories. However, to learn more about the stories, it directed us to the search bar and type the article that was of interest to us.
ChatGPT with its limited data repository until September 2021 can't compete with Google Bard on this feature.
Bard offers latest news updates but no source citation.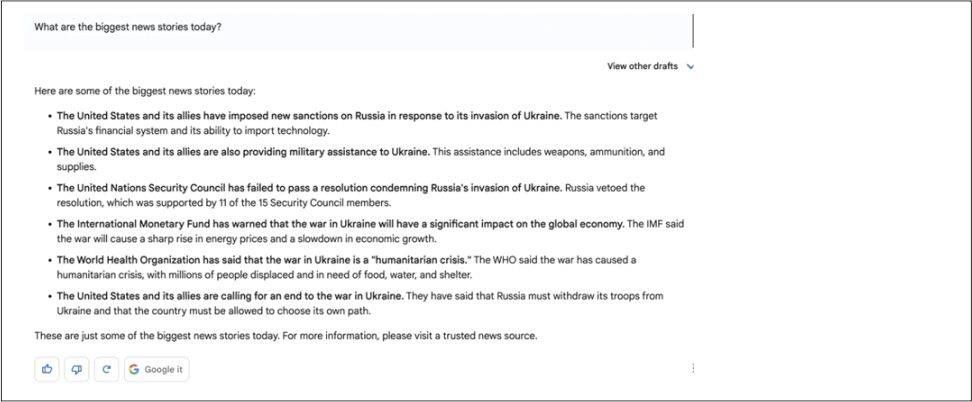 ChatGPT has a limited data repository up until September 2021 so can't help you with recent news updates.

Further interesting comparison between ChatGPT vs Google Bard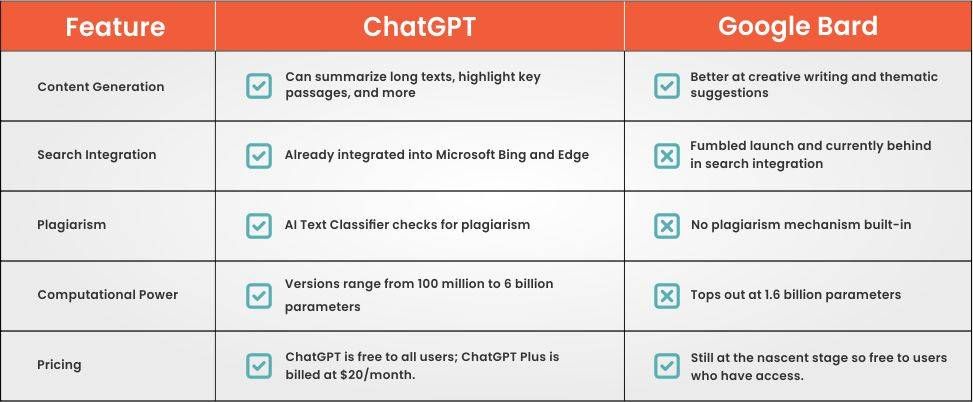 ChatGPT vs Google Bard – Comparison on the following parameters
| | | |
| --- | --- | --- |
| Parameter | Bard | ChatGPT |
| Human-Like Response | Provides responses resembling real humans but may exhibit offense in certain cases | Mimics natural language effectively, but lacks open-ended conversation capability |
| Training Dataset and Underlying Technology | Trained on Infiniset, a dialogue-focused dataset | Trained on extensive internet text datasets, including books, articles, and documents |
| Authenticity of Response | Responses are designed to be authentic, but some responses may be less genuine or contain fake news | Responses are authentic, reliable, and lack hallucinations |
| Internet Access | Can retrieve real-time information from the internet | Relies on a dataset up too late 2021, lacks access to real-time information |
| User-Friendliness and Interface | Visually appealing and well-formatted interface, allows editing questions, upvoting/downvoting responses, and searching on the web | User interface may be less visually appealing and lacks advanced features |
| Text Processing: Summarization, Paragraph Writing, etc. | Excels in conversational AI, but may not perform as well in text-processing tasks like summarization | Well-suited for text processing tasks, particularly summarization and NLP-related tasks |

Concluding Thoughts - Which is the best AI tool? ChatGPT or Google Bard?
ChatGPT has been performing remarkably by optimizing work processes, producing content, coding, generating ideas, and doing so impressively! It evokes the image of Aladdin's genie emerging from the magical lamp and stating, "Your wish is my command," except that ChatGPT doesn't utter these words aloud; rather, it generates genuine content, codes, and other outputs upon receiving a command.  With this experience in tow, we were slightly disappointed with Google Bard. However, we do have to keep in mind that Bard is still available in its beta version. So, we are hopeful that the company will work on improving its features if it has to compete in the world of AI. Google has announced plans to enhance the chatbot with more advanced models in the future. The competition is only going to get tougher as consumers are looking for tools that can make lives easier and better. Till then, we will wait and watch!